The hot weather has been pretty consistent with the sun and heat, which means it is now crucial to protect your skin against the sun. But, sunscreen that goes on your body is not usually good for your face. My general rule of thumb is put a higher SPF on my face, because I burn a lot easier on the face than the rest of my body. For day-to-day I use an SPF 30, and I use lower SPF in the winter and fall (yes, you still need to protect your skin when there is no sun out and when it is not summer because, hello, UV rays).
My skin can be pretty sensitive on my face, so I like to use products that are not super heavy, and that don't leave that white residue after applying. It is also good to use a sunscreen that is specifically for your face (duh) an not a general, all over product because it can clog pores and cause breakouts. Because I live in Vancouver, I can get away with wearing an SPF 30 at most on my face and be OK. However, if I am on vacation somewhere that tends to be a lot hotter (like Vegas, or that one time I went to Hawaii), I will up the SPF to anywhere between 45-60.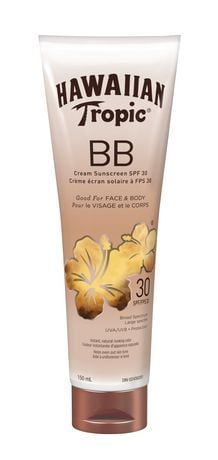 Hawaiian Tropic BB Cream SPF 30 is pretty much my go-to. I 'll be honest, I started using sunscreen every day as my moisturizer because I am using a Retinol acne cream, which can cause the sun to affect your skin more. I found this one a little while ago in Shoppers Drug Mart when I was looking for a face sunscreen and I thought, why not try this one out.  I was hooked immediately. It has a light tint to it and smells amazing (because I am obsessed with the smell of sunscreen). As far as inexpensive products go, this one is my favourite facial sunscreen.
La Roche-Posay has got to be one of my all-time favourite skincare brands. It is perfect for sensitive skin, gentle, and has such a wide range of products for every skin type. I have used a few of their facial sunscreens and absolutely love them! They are a bit more pricey but perfect if you are going on vacation somewhere where the sun is more powerful. The product is lightweight, and feels great on the skin. It is also perfect for wearing under makeup because it is not so heavy.
I just tried this CC+ Cream from itCosmetics a couple of months ago for the first time ever and I have to say, I am hooked! This is perfect for summer! Lightweight (yeah, I know right?!), easy to apply, and best of all it is full coverage! I was shocked when the girl at Sephora told me it was full coverage. I was sceptical until I tried it for myself and I was very impressed at how much a little of this product you need to use. I highly recommend this product to anyone who is looking for something that feels lightweight but also provides more coverage than a BB or regular CC cream.
The Perfect Sunscreen by Consonant is pretty amazing. I tried this product out at an event and thought it was great! This sunscreen is 100% natural, non-greasy, and leaves no white residue. This product is also water-resistant, however they do recommend re-applying after swimming or playing water sports. It is a great product to use as a daily moisturizer or under your makeup.
Sun-care is always super important for summertime, but don't forget that the sun shines all year round and we are exposed to UV rays even when the sun is hidden behind those pesky rain clouds. It is beneficial to wear SPF on your face to protect your skin all year round, but especially in the summertime when the sun is at its most damaging. Even if you are like me and want that bronzed skin so you go to the beach covered in tanning oil, always make sure your face is protected. When I slather tanning oil on myself, I always make sure I have sunscreen on underneath and that I have a higher SPF on my face.
Let me know what products you like and maybe I will give them a try! I am always on the lookout for new brands and items to try out! Leave a comment below and follow the blog for weekly post updates!
Please follow and like us: