So the 2018 VMA Awards were the other day, and I am finally getting around to my best and worst dressed picks. Better late than never, right? While I sit here and ponder who to put on what list, I have to keep reminding myself that this is the VMAs and not the Golden Globes, Oscars, or Emmy's. Class is not always part of the equation at this award show. The red carpet is for celebrities to show off some absolutely outrageous looks and some tame ones. For me, the more outrageous is not always better (lest we forget Lady Gaga's meat dress).
There were some outfits that were quite questionable, and some that were down-right stunning. Keep in mind that all choices are my own opinions, not to be confused with the opinions of others. There is also no specific order. I will of course explain the reason behind my decision after each photo. So here we go, my picks for best and worst dressed at the 2018 MTV VMA's:
BEST DRESSED
Slay, Queen, slay! J.Lo rocked this silver metallic gown by Versace like no other! As per usual, she showed up looking like a goddess who has discovered the fountain of youth. This woman does not age! Metallic was an obvious theme of the night and I feel that even though this look is almost predictable for her, she nailed it!
Kylie Jenner in Tom Ford looking like a business woman ready to party. I actually really liked this blazer-dress, and even though at first I thought, what in the world? This is the VMA's, not after work cocktails! The more I looked at it the more I loved it. She looked elegant, yet still ready for a night out on the town.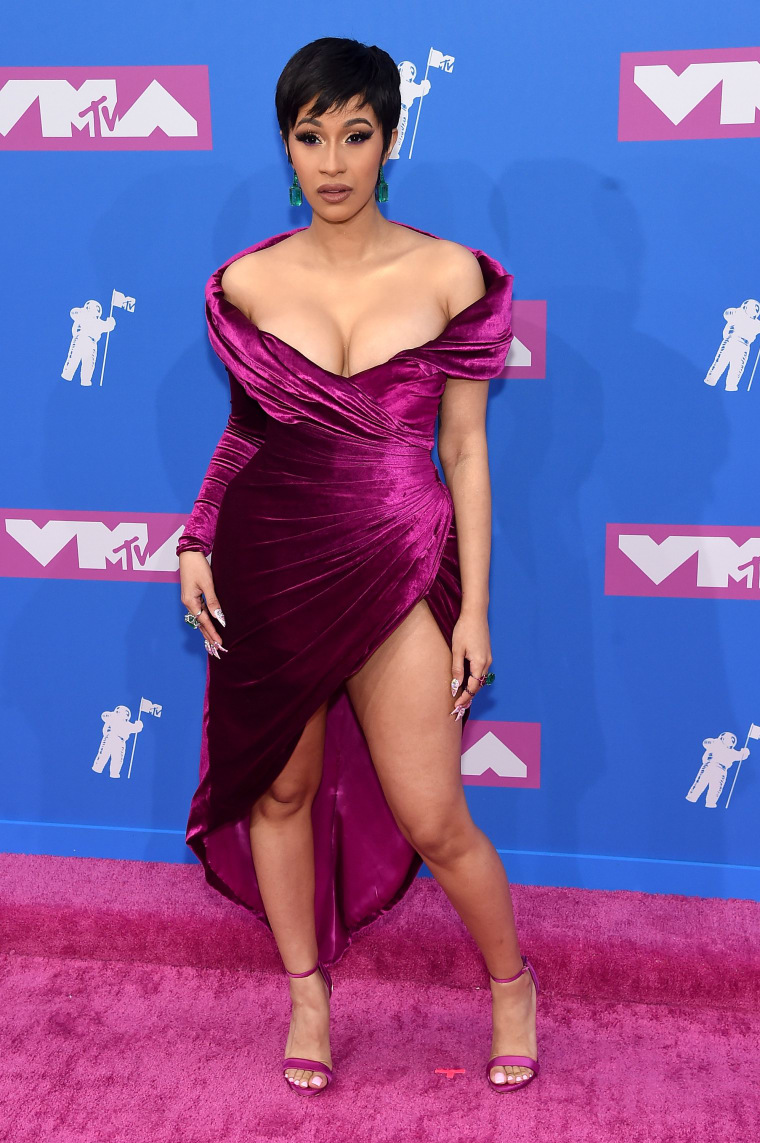 Oh my God, YES! Showing off her sexy post-pregnancy body in a custom magenta Nicolas Jebran dress and fresh pixie cut, Cardi B turned heads for all the right reasons on the red carpet. She looked gorgeous and sexy and had such a glow about her! I love that she paired this dress with emerald green costume jewellery rings! Definitely had to be one of my top picks!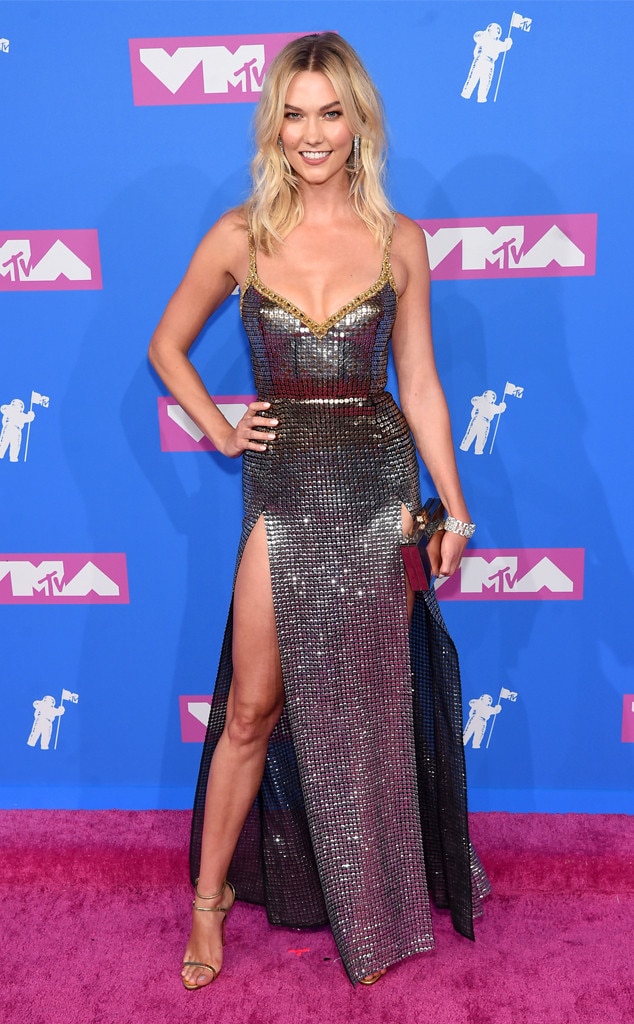 Karlie Kloss in Elie Saab nailed the red carpet. I loved this dress! She looked like a sexy disco ball, but, like, in a good way. As soon as I saw this dress I was like, I want it! I would wear that! I am all about the double slit in long dresses these days and thought she looked like a goddess!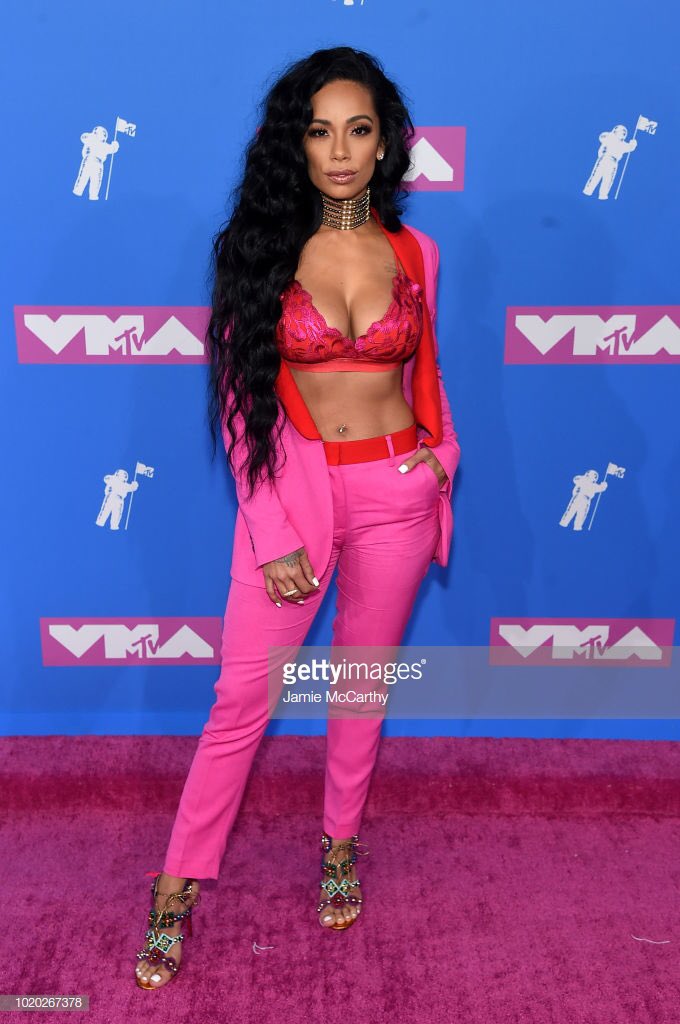 I have a confession. I don't know who Erica Mena is, but I do know that I love this outfit! Straight up VMA style with the hair, that choker, and the bright pink suit with the revealing cleavage and abs? FIRE! I wish I could pull something like this off because it is giving me classy Lil' Kim vibes and I'm obsessed.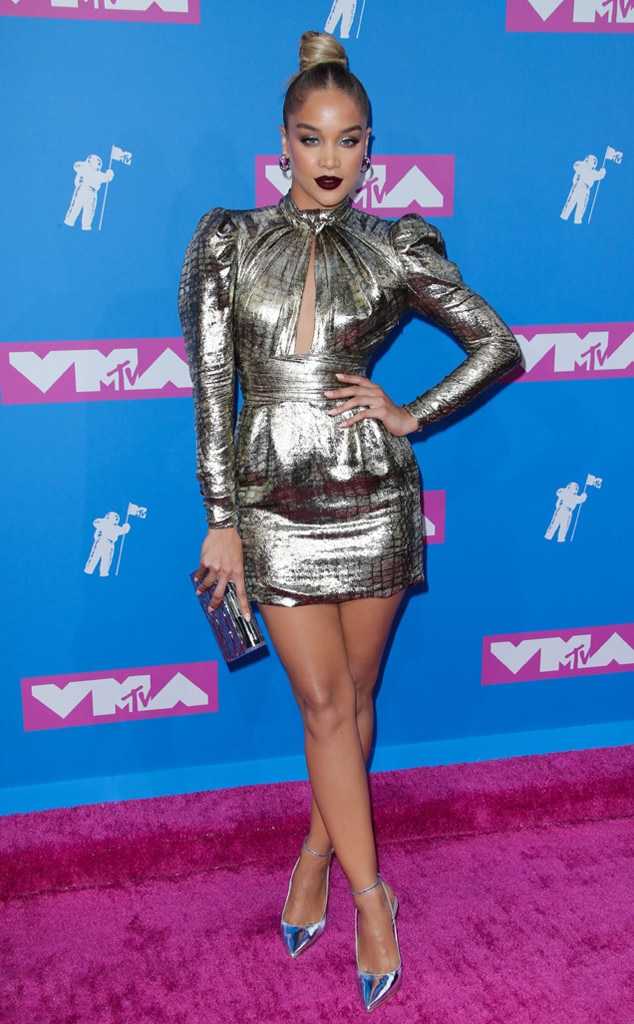 I don't really know why, but I like this metallic vibe that was happening at the VMA's. Jasmine Sanders showed up in this metallic dress, heels, and klutch ensemble with that deep burgundy lip and hair in a perfectly tight bun and I was mesmerized. Her makeup was on point and she looked gorgeous and sexy in the minidress. At first I was not into the puffy sleeves, but like other dresses at the VMA's, the more I looked at it, the more I liked it.
I had to throw a guy in here for good measure, and who better than Liam Payne. I swear if no ones panties dropped as soon as he stepped on the red carpet, I'm going to assume everyone was blind. I saw him on the screen and did a double take and dropped my jaw. Thank goodness my boyfriend wasn't around to see it (although if he is reading this, I'm sorry, but look at him, daaaaamn, looking like a young, tattoed JT).
Now for the part everyone anticipates and probably scrolls down quickly for (don't lie, y'all are just as curious and slightly evil as I am).
WORST DRESSED
What. The. F**k. I didn't know Halloween was in August this year. I can't tell if Amber Rose is supposed to be a devil, Catwoman, or channelling her inner Madonna circa 1990 tour. Either way, this outfit was too much edge. I actually really like Amber Rose and think shes pretty funny, but I keep waiting for photos of her in this outfit picking a vadgie to surface (for those who dont know, a vadgie is a vagina wedgie. You're welcome.).
Umm…….I wasn't aware that the VMA's were held in a 1960's -1970's transition era boardroom. Did I miss the memo, or did Amandla Stenberg just come straight from a meeting? While Kylie Jenner stunned in a white blazer dress, Amandla did not do the "office-to-party' look right. This is the VMA's. An awards show, not the Selena Gomez Bad Liar music video.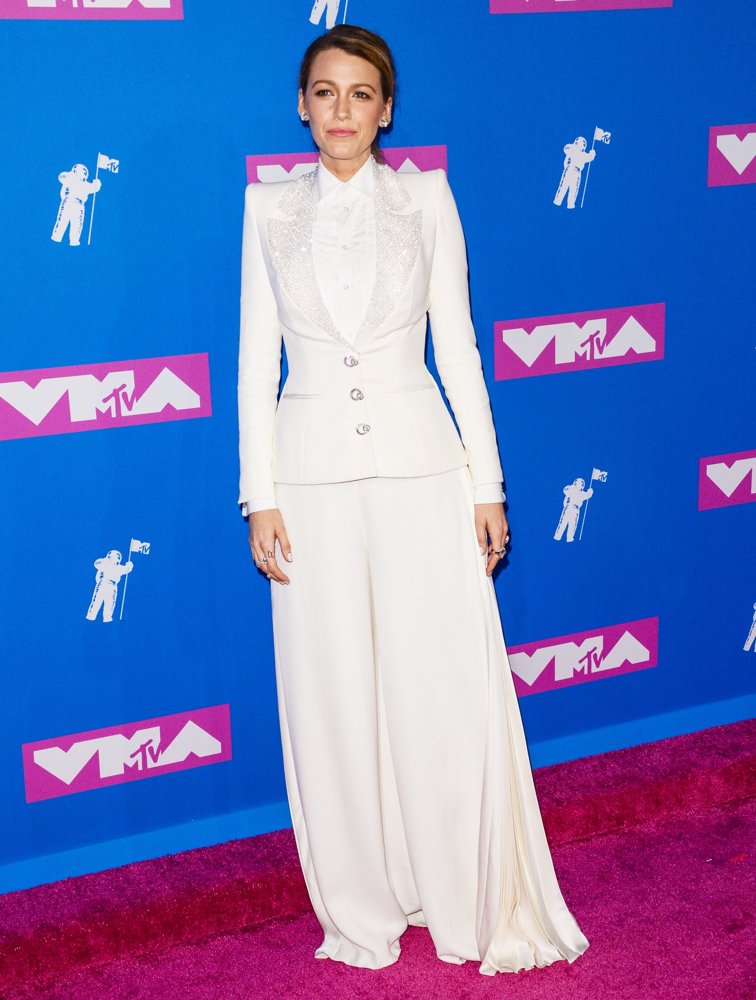 Blake Lively, what have you done? This Ralph & Russo ensemble is a total miss. What was her stylist thinking? Better yet, what was she thinking when she LET her stylist put her in this outfit?! This is the exact look the face-palm emoji would be used for. Usually she kills it and I absolutely love her style, but this was just a total miss. Wrong event for this outfit.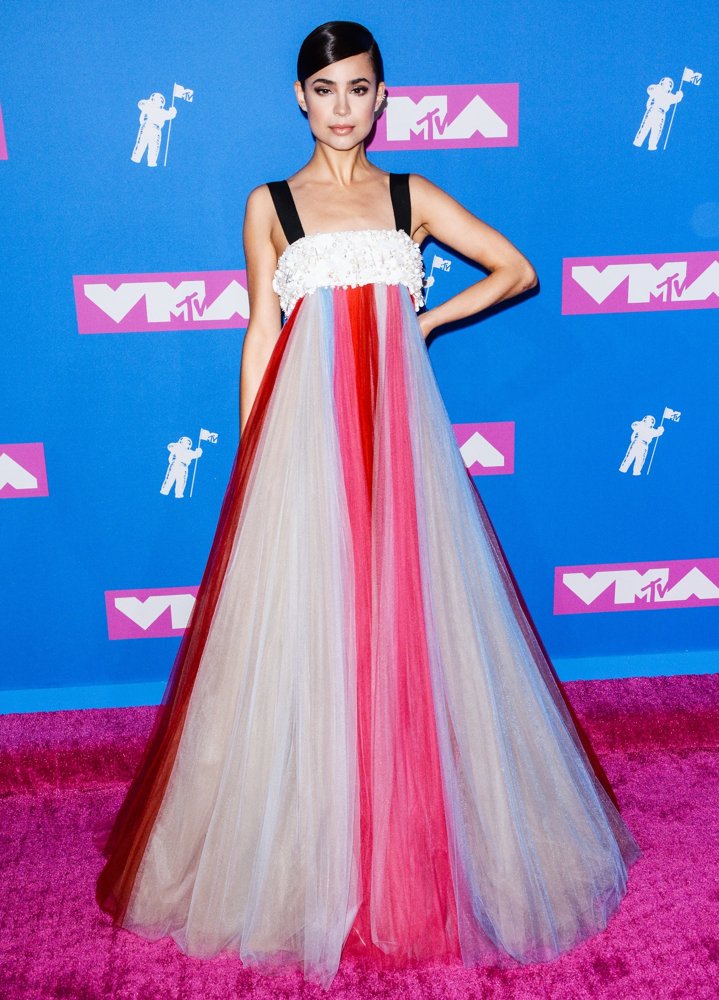 Speaking of wrong events for the outfit…I think Sofia Carson got some dates mixed up. Don't get me wrong, this Carolina Herrera dress is SO pretty, but this isn't the Oscars. The VMA's are a bit more casual than this, I think, so this look was a miss for me. Great dress, wrong event.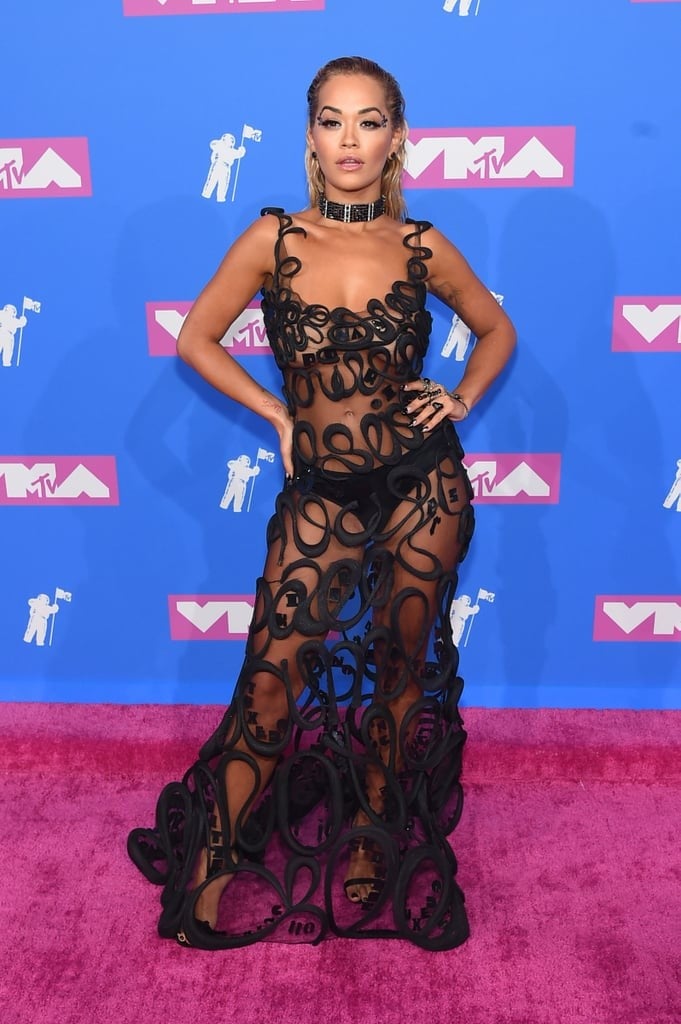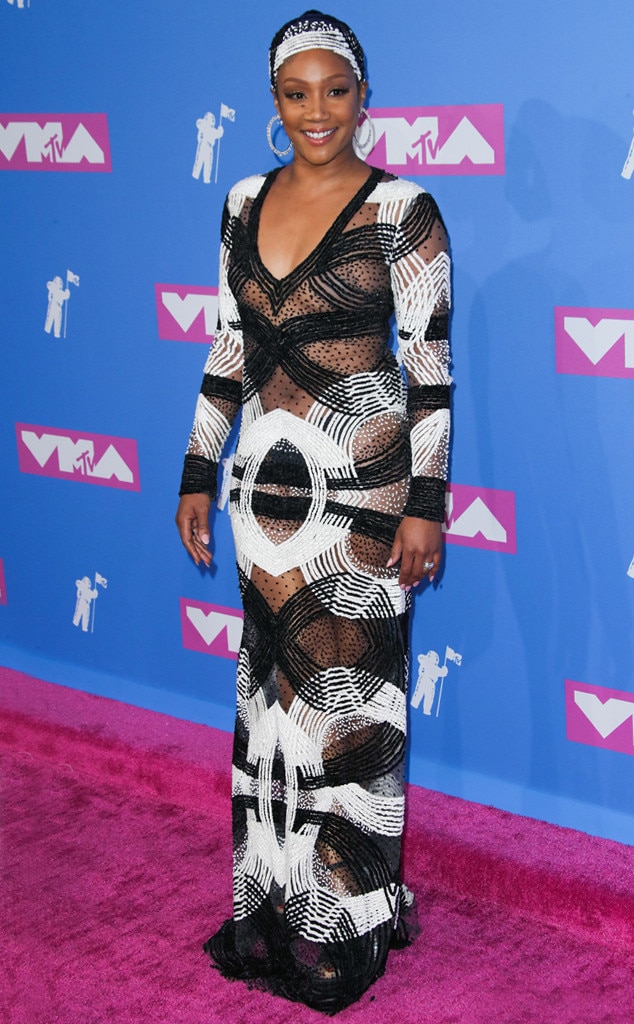 I'm confused. Did Rita Ora and Tiffany Haddish get caught in a fisherman's net and just shrug their shoulders and go on with their night? That is what this looks like, to me at least. I just would like to know the concept behind the idea for these looks, because I am convinced someone is currently obsessed with the World Fishing Network and its getting to their head.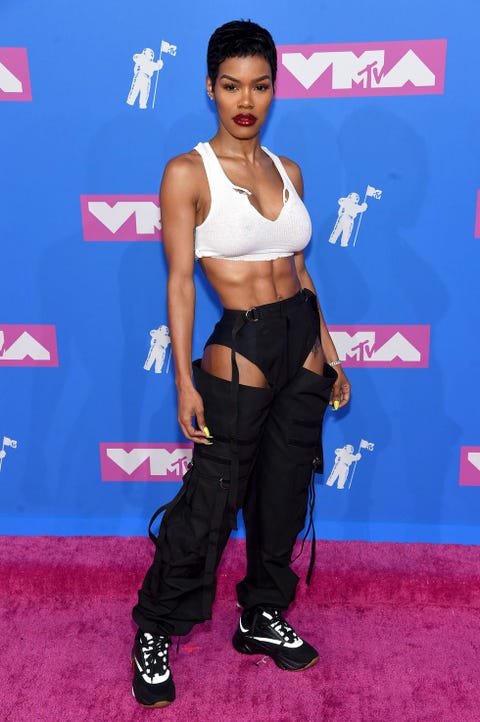 Teyana Taylor, where is the top of your pants?! I know I said the VMA's are more casual but for real this is getting ridiculous. She is so beautiful, and those abs could grate cheese, but the hair and this outfit is more zombie apocalypse video game than music award show.
Last but not least (although probably the least appealing) is Dej Loaf. I just can't at this point. I'm done. There aren't even words to describe wtf this even is. It is like a train wreck, you just can't look away.
I have to say, I would be the WORST person to be at the VMA's (or any awards show for that matter) simply because I do not hide my disgust very well. I need to seriously lie down and stop wondering why these celebrities let their stylists put them in these outfits. I can only reason that they were trying to be on every worst dressed list because this is just getting too ridiculous.
Anyways, that is my opinions for best and worst. Leave a comment below and let me know which looks were your favourites, and which looks did not pass the mark for you.
*** Follow the blog for post updates, Instagram, Pinterest, Facebook, IGTV and YouTube!
Please follow and like us: